Press Highlights
Press for Dance Little Lady, Dance Little Man (click on the text to read full review where possible)
"I can't think of another alto saxophonist with a sound quite like Sam Braysher's…" Dave Gelly, The Observer 
"There's more sophisticated swing from another alto saxophonist, the Londoner Sam Braysher…." Chris Pearson, The Times
"They're a world-class rhythm section and the three together work magic. Braysher himself constantly surprises… Whatever he plays, he thinks about carefully, making each solo an excursion of great interest, never overloading sentiment or false emotion but always staying true to the song." Simon Adams, Jazz Journal
"A triumph of intelligence and sentiment from all in this subtly stand-out recording, with a deceptive simplicity that reveals new depths with each listen." Eddie Myer, Jazz Views
"The trio format works brilliantly here; the players have built a solid understanding which enables grooves which are both skin-tight and teasingly loose." Stephen Godsall, Jazz Halo (Belgium)
"Tone-wise the sound is related to Konitz, Desmond or early Art Pepper but the application is different. He uses notes and phrases differently. Sometimes sparingly other times with virtuoso flourishes. Seeking to redefine a variety of standards without taking away the essence of the tune whilst still making it his own. If he'd been a singer he'd have done with a lyric what Sinatra did." Bebop Spoken Here
Hiroki Sugita, Jazz Japan: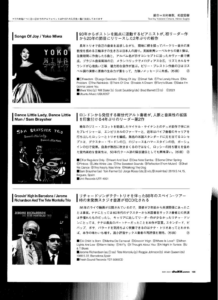 "Tucked in among the standards later is a tasty original by Braysher." Marlbank
4-star Review in Jazz'N'More (Switzerland):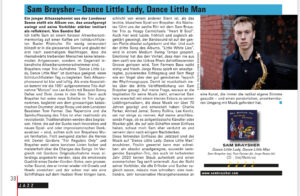 Interviews
Interview with Emma Smith for BBC Radio 3's Jazz Now programme.

Interview/feature by Chris Searle in the Morning Star, May 2019
Interview/profile by David West in Jazz Journal May 2018
Interview with Gail Tasker for Bebop Spoken Here.
Interview with jazz author and blog writer Debbie Burke
Reviews of Golden Earrings
"delightful and surprising" **** Dave Gelly, The Observer
"Braysher's cool, modernist twist on old songs is just superb" Simon Adams, Jazz Journal (picking Golden Earrings as one of Critics' Poll albums of the year 2017)
"The result is fresh, melodic and entertaining…..The CD captures this freshness of approach and something of the energy and empathy which flows between these two great artists." Jane Mann, London Jazz News

"utterly swinging, with the restraint that comes from total self-assurance,  and hip as a New York minute" Eddie Myer, Jazz Views
"The empathy between Braysher and Kanan is evident from the start…. with inspired passages from the saxophonist." 4/5, Tim Stenhouse, UK Vibe
"A fine debut in the tradition of Ellis Larkins and Ruby Braff" Robert D. Rusch, Cadence Magazine (USA)
"This music is a wonderful series of wise tender explorations by two artists so much in tune with each other and with the songs" JAZZ LIVES (USA)
Jazz Japan:

"Sam Braysher is a wonderful example of the new players that Jordi Pujol has been featuring on his Fresh Sound New Talent Series" Jersey Jazz, (USA)
"Braysher improvises with imagination and delicateness" Roger Farbey, Jazz Journal
"a vivacious performance that exhibits great technical virtuosity" Ian Mann, The Jazz Mann
"I have heard Sam fly away with some beautiful solos at live gigs and if you get the chance to go to the live sessions on the tour promoting this album, you should take the opportunity – and some change to buy the album."  Ian Maund, Sandy Brown Jazz
"Recommended!" Lance, Bebop Spoken Here
Live
John Fordham preview of the Golden Earrings release tour in the Guardian Guide: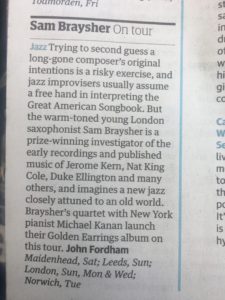 "I was lucky to hear them play on the album launch tour. They performed in the lovely Tudor recital room at the Anteros Arts Foundation in Braysher's home town of Norwich. It's an intimate space with a very nice antique Steinway baby grand, no amplification necessary, and they went down a storm. The pair appeared completely at ease, had no fixed play list, and decided which tune and in which key to play before each song. They performed some of the tunes from the album, but gave the impression that their repertoire was vast." Jane Mann, London Jazz News
"It was almost "House Full" signs as the entirely acoustic quartet took to the Verdict stage, that was totally devoid of wiring and electrical apparatus, for one of the very few times since its inception. The band were able to make an immediate strong connection with the audience whose sustained applause at the end of the first number as Rogers and Hart's "There's A Small Hotel" set the scene for two superb sets of jazz interpretations of The Great American Song Book, lesser known gems and samples from the leader's duo album. The London based saxophonist possesses a sweet tone, coupled with a strong and direct approach, which enables him to convincingly deliver and extend the lines of each theme before making them his own with cliche free improvisations." Jim Burlong, Jazz Views. Full review here.
"embellished lines full of trills and twirls… a young crowd came out to dig Braysher's reworked classics" Jon Carvell, Jazzwise