Press Highlights
Interviews
Interview with Emma Smith for BBC Radio 3's Jazz Now programme.

Interview with Gail Tasker for Bebop Spoken Here.
Reviews of Golden Earrings
"The results, played in his airy, vibrato-less tone, are both delightful and surprising. His partner in this venture is American pianist and song expert Michael Kanan. Together, they rediscover the pristine elegance of both melody and harmony in pieces by Jerome Kern, Irving Berlin and Nat King Cole, among others, and bring them to light through their own sensitive improvisations." **** Dave Gelly, The Observer. Full review here.
"The result is fresh, melodic and entertaining. They play as a duo rather than soloist and accompanist. They play harmoniously together, listening and responding with an evident rapport. The music feels collaborative, the tunes are stated sensitively, and the arrangements are inventive. Every tune has a satisfying if sometimes unexpected resolution… The combination of Braysher's airy sweet tone, and Kanan's rhythmic elegance makes for a lovely, unhurried and yet swinging set. They both play with precision and there were passages of intricate counterpoint, which I particularly enjoyed. The CD captures this freshness of approach and something of the energy and empathy which flows between these two great artists." Jane Mann, London Jazz News. Full review here.

"Charlie Parker's 'Cardboard' has an extended unison passage that showcases the similarities between Braysher and the acid-drop coolness of Lee Konitz – it's utterly swinging, with the restraint that comes from total self-assurance,  and hip as a New York minute… [T]he restraint, taste and hipness of their musicality not only breathes new life into the material but re-affirms the values that defined some of the classic material of the Golden Era…. The mood is subtle and introverted rather than heart-on-the-sleeve, but nonetheless this very classy and hugely enjoyable recording, produced and released by the Barcelona label that helped launch the careers of Brad Mehldau, Robert Glasper, Ambrose Akinmusire and Rosenwinkel himself,  should delight traditionalists and might send some others back to check out aspects of the music that they may have neglected. Catch them on tour together in the UK this September." Eddie Myer, Jazz Views. Full review here.
"A vibrant recording sound brings this music alive and there is just the right balance of Great American songbook standards, and a fine original by the leader on 'BSP'. The empathy between Braysher and Kanan is evident from the start, and they both play off one another and in unison as and when required. Never needing to resort to cliché, the music has a freshness and opens up new avenues, as on 'In Love In Vain', which in the introductory passage has echoes of 'April in Paris', with inspired passages from the saxophonist." 4/5, Tim Stenhouse, UK Vibe. Full Review here.
"Kanan plays in a disciplined yet fluid fashion adding a vital rhythmic and melodic base to the numbers, whilst Braysher improvises with imagination and delicateness as typified by his playing on Victor Young's title track." Roger Farbey, Jazz Journal
"…the overall effect is of an informal session with two musicians who understand the music just getting together to play. For me, the album's strength is in the interplay, the counterpoint that Sam and Michael achieve. The result is an accessible recording that will be enjoyed by a wide audience and of interest to those who have not previously come across these lesser known tunes by great songwriters. Maria Cristina Mena put it nicely: 'The piano keys are black and white but they sound like a million colors in your mind'. I have heard Sam fly away with some beautiful solos at live gigs and if you get the chance to go to the live sessions on the tour promoting this album, you should take the opportunity – and some change to buy the album." Ian Maund, Sandy Brown Jazz. Full review here.
"Braysher's tone is similar to early Lee Konitz, perhaps even lighter if that were possible. He floats in an ethereal sort of way. He's a dancer more akin to the ballet than, say, a Broadway hoofer… Recommended!" Lance, Bebop Spoken Here. Full Review here.
Live
John Fordham preview of the Golden Earrings release tour in the Guardian Guide: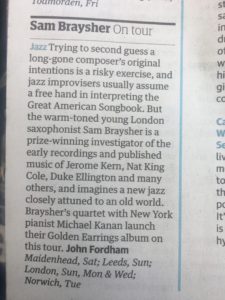 "I was lucky to hear them play on the album launch tour. They performed in the lovely Tudor recital room at the Anteros Arts Foundation in Braysher's home town of Norwich. It's an intimate space with a very nice antique Steinway baby grand, no amplification necessary, and they went down a storm. The pair appeared completely at ease, had no fixed play list, and decided which tune and in which key to play before each song. They performed some of the tunes from the album, but gave the impression that their repertoire was vast." Jane Mann, London Jazz News
"It was almost "House Full" signs as the entirely acoustic quartet took to the Verdict stage, that was totally devoid of wiring and electrical apparatus, for one of the very few times since its inception. The band were able to make an immediate strong connection with the audience whose sustained applause at the end of the first number as Rogers and Hart's "There's A Small Hotel" set the scene for two superb sets of jazz interpretations of The Great American Song Book, lesser known gems and samples from the leader's duo album. The London based saxophonist possesses a sweet tone, coupled with a strong and direct approach, which enables him to convincingly deliver and extend the lines of each theme before making them his own with cliche free improvisations." Jim Burlong, Jazz Views. Full review here.
"embellished lines full of trills and twirls… a young crowd came out to dig Braysher's reworked classics" Jon Carvell, Jazzwise