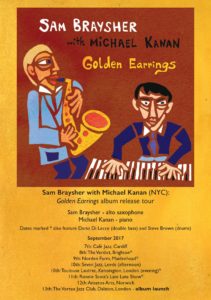 Very happy to be welcoming Michael Kanan to the UK for the album release tour of our album, Golden Earrings. We're playing eight gigs across a week in September. Hope you can join us! The dates are:
7th: Café Jazz, Cardiff
8th: The Verdict, Brighton*
9th: Norden Farm Centre for the Arts, Maidenhead*
10th: Seven Jazz, Leeds (afternoon)
10th: Toulouse Lautrec, Kennington, London (evening)*
11th: Ronnie Scott's Late Late Show, London*
12th: Anteros Arts Foundation, Norwich
13th: The Vortex, Dalston, London – ALBUM LAUNCH
We are doing a mixture of duo and quartet gigs. All dates feature me on alto saxophone and Michael Kanan on piano. Dates marked * also feature Dario Di Lecce (double bass) and Steve Brown (drums).
With thanks to Arts Council England and Norfolk County Council Arts Project Fund.